By Tamlyn Canham
Norma Mngoma and her estranged husband, Malusi Gigaba, were all smiles at their son's birthday party.
Nkanyezi just turned 10 and to celebrate the former couple threw him a gaming-themed party.
"Happy 10th birthday my boy Nkanyezi, the coolest and sweetest kid ever, nothing warms my heart like seeing your smile. Finally, your birthday arrived, we have been counting months since Jan. You are such a beautiful soul, forever give kisses and warm tight hugs," she wrote on Instagram.
Norma added that she loves how Nkanyezi protects his younger brother, Mvelo.
"May you continue to shine like your name. Your parents love you more than everything in this world and may God continue to protect and guide you my nana. I want to see you grow and become a gentleman full of respect, love and wisdom. Love you so much my firstborn and I promise will forever be there to support you."
The post included several pictures from the birthday party. Malusi appeared in two of the images, including one with Norma and their sons.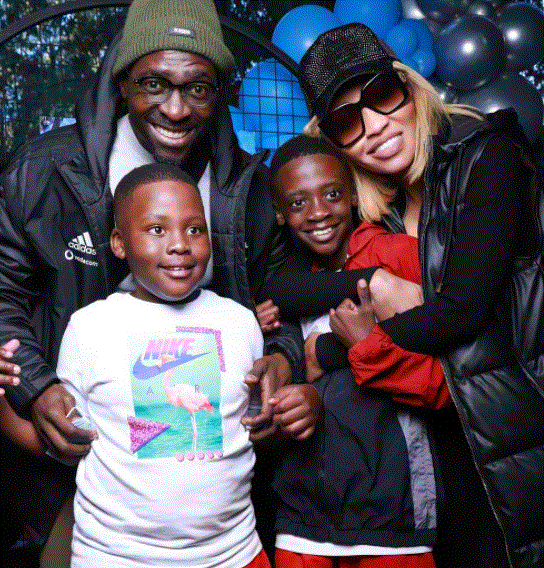 Trouble in paradise
Things have been rocky between Norma and Malusi over the past year. Norma spent a night in jail in July last year after the Hawks arrested her at the former couple's marital home in Waterkloof.
She was charged with malicious damage to property for vandalising a Mercedes Benz G-Class that belonged to one of Malusi's friends. The friend had loaned him the vehicle.
Norma claimed the Hawks only arrested her as a "favour" to her husband, who she says, wanted to teach her a lesson.
The Gauteng High Court ruled in February 2021 that the arrest was unlawful and ordered the Hawks to return her phones and laptops.
The items were confiscated during her arrest. Norma claimed that her husband wanted to gain unlawful access to the items "to delete specific information".
State Capture
Norma made headlines in April when she appeared before the Commission of Inquiry into State Capture to talk about Malusi's relationship with the Gigabas.
The businesswoman had previously revealed that they visited the Gupta family on several occasions.
She said her husband would receive "bags of cash" from the family to do "favours for them".
Malusi hit back at the claims. He alleged that Norma has "ulterior motives" and accused her of being a "bitter wife".
READ: Investigating Directorate seizes Gupta associate's assets